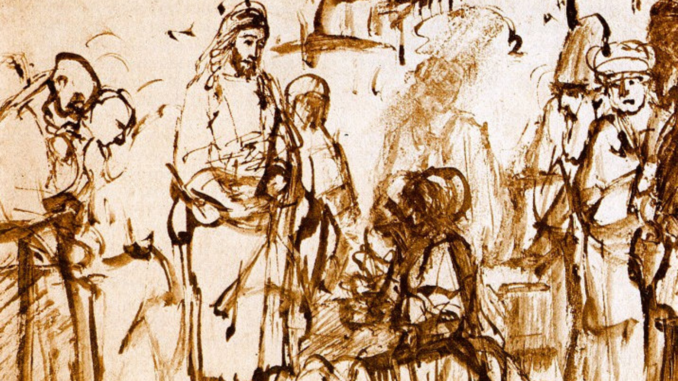 Five Minute Devotions: John 11
John 11 marks another turning point in Jesus's ministry. The Jewish leaders have been growing more and more uneasy, looking for a way to kill him. He's been avoiding the region of Judea for this very reason. But then Lazarus, his dear friend, falls sick.
The way that John records this introduction is meant to lead us to the obvious conclusion that Jesus immediately rushes to Lazarus's side. Lord, the one you love is sick. But Jesus doesn't rush. He isn't perturbed by this new state of events. He'll wait it out. This sickness will not end in death.
And then Lazarus dies.
His Response to Martha
How must Martha feel? Day after day, she's taking care of Lazarus. Trying to cool his fever, spoon feeding him, keeping him hydrated. For weeks, she's attended to Lazarus's every need. But this time she knows that she isn't enough. She calls for Jesus. He doesn't come.
Lazarus dies. He is buried. The days of mourning begin. And then Jesus shows up. Can you imagine Martha's mental state? She's the head of this funeral. She's coordinating the mourning—which would last for about 30 days. She is the planner, the manager. And she steps away from it all to go see Jesus.
As soon as Martha heard that Jesus was coming, she went to meet him, but Mary remained seated in the house. Then Martha said to Jesus, "Lord, if you had been here, my brother wouldn't have died. Yet even now I know that whatever you ask from God, God will give you." – John 11:22
I don't know in what tone Martha said these words. Accusatory? If I am to project my own feelings onto the matter, that's how it would come out. Does she run into his arms, sobbing it? Does she have her arms crossed and it come out cold and distant? However it's said, it's a practiced phrase. Mary will say the exact same thing just a few verses later.
For four days, I imagine that this has been the sisters' refrain to one another. If only he had been here. If only he had been here.
Jesus responds:
"Your brother will rise again," Jesus told her. Martha said to him, "I know that he will rise again in the resurrection at the last day." – John 11:23-24
A Theological Response
Martha's theology is on point. She's listened to the Master's teaching. She knows Jewish belief and tradition. She looks forward to that final resurrection of the body and eternity in the Kingdom of God. At the end of the age, when Messiah inaugurates his kingdom, the dead shall rise again.
Jesus offers a theological clarification. Martha is the thinker, the doer, the woman of action. And so he offers a profound truth. You are correct, Martha. But that resurrection into new life begins from the very moment you accept me as your Messiah.
Jesus said to her, "I am the resurrection and the life. The one who believes in me, even if he dies, will live. Everyone who lives and believes in me will never die. Do you believe this?" "Yes, Lord," she told him, "I believe you are the Messiah, the Son of God, who comes into the world." – John 11:25-27
Mary
To the thinker, Jesus offers a theological answer. To Mary, he offers another answer completely.
As soon as Mary came to where Jesus was and saw him, she fell at his feet and told him, "Lord, if you had been here, my brother would not have died!" – John 11:32
And Jesus's response this time is not words, but strong emotion. He joins with Mary in her grief. Where's the body? he asks. And then, the famous verse: Jesus wept.
An Emotional Response
The simplicity of that statement really downplays what is happening. This weeping of Jesus is no small thing. It is a primal yell. It is anger at the reality of death, the reality of sin. Indignation that his love for Lazarus has been called into question. Empathy with Mary and Martha.
Jesus engages in the theological conversation, but he is as emotional as intellectual—even more so. And it leads him to action. Lazarus, the command is simple, come out.
Jesus raises the dead because he is the resurrection. This is the glory of Jesus. Jesus raised Lazarus because he is the resurrection. He is the arrival in history of God's final, glorious renovation of all things, including our bodies. The raising of Lazarus shows us his power over the physical—he reanimates dead flesh—and over the spiritual—he reconnects the soul to the body.
Prayer
God of Resurrection, bring these dead bones back to life. Imbue in us a new spirit, equip us to the resurrected life to which you have called us.
Discussion Questions
What implications does Jesus's different answers to Mary and Martha have on our attempts at evangelism and apologetics?
Is there any significance to Lazarus being dead for four days?
The header image today is Rembrandt's Mary and Martha at Jesus' Feet (c. 1662). It hangs in the Cleveland Museum of Art.
Previous: #FiveMinuteDevotions | John 10