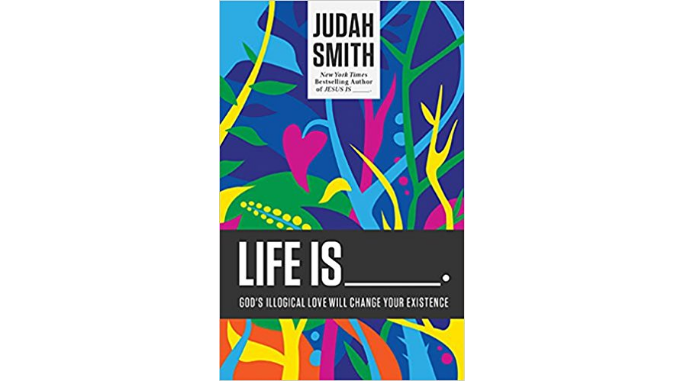 QUICK HIT: In Life Is, Judah Smith and the Thomas Nelson team did a complete 180 after their disappointing first installment. Each video lesson now runs about 20 minutes each and there is a more substantial discussion guide that follows, though it still lacks any object lessons or icebreaker type activities.
If I didn't know better, I would say that Judah Smith and the Thomas Nelson team read my review of Jesus Is________. In that review, I took the small group series to task for a number of things and I am very pleased to note that almost every criticism that I had was directly addressed. It's astounding, really.
I very nearly passed on even viewing this series. I had received both from the publisher (thanks Thomas Nelson!) and after Jesus Is_____, just wasn't going to give my time for more of the same in Life Is_______. I'm so glad I did. It's an astounding series that kept me captivated from beginning to end.
That's not hyperbole. I put in the first disc not knowing what to expect. Two hours later, I'm still in front of the computer taking notes. First thing: the video lessons are a respectable length, clocking in at about 20 minutes each. That's long enough to give some substance. Also gone is the stylistic artsy shots in favor of a just as well-designed group setting. It's Judah, a handful of people, and he just preaches. Man, if the guy preaches like this all the time, I see why people listen.
Now true, he's still got some of the issues of pandering to pop culture, but in this case he comes off more genuine and less parody of himself. As a pastor, I'll be honest, it's hard to keep me focused on someone else's sermon. It just is. I start thinking about how I'd preach it, how I'd do it different, so some point that I would've used or not used. Judah put me right in the groove of worship. And it was awesome.
The six lessons roughly correlate to the book's four primary headings, which is the answer to my second major criticism of his previous work. The lessons are:
Life is to be loved by God.
Life is to love others.
Life is to trust God.
Life is to be at peace with God.
Life is to be at peace with yourself.
Life is to enjoy God.
Frankly, anything I say will not do it justice. Just get it and listen for yourself.
The study guide is meatier and better structured, though it still lacks pre-video questions or activity/object lesson ideas. I was very glad that they kept the daily readings/devotional for the between days. As a leader, I'd probably still use and adapt some of that material to the small group, but now I'd do it just to encourage people to engage with the material rather than feeling like I needed to in order to provide a substantive lesson.
Overall, the two series are like night and day. Smith and his team took things back to the drawing board and they created a masterpiece.