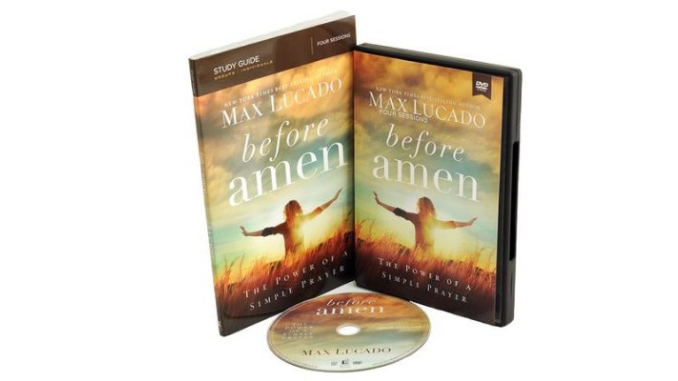 QUICK HIT: In Before Amen, Max Lucado is at his best. Each video lesson in the four week series runs around 20 minutes. The accompanying discussion guide follows each lesson with around ten discussion questions and, most helpfully, has a "Between Sessions" feature for daily devotions.
Let me say at the outset that I greatly appreciate Max Lucado. He has been an amazing force in Christian publishing and the impact his words have had on millions is absolutely outstanding. I loved Before Amen and was excited to see how it translated into a small group series.
Like most of Lucado's video series that I've gone through, it features Max talking through the material of his book. Max comes across the same in his speaking as in his writing. Earthy, down home, sincere demeanor coupled with a sense of pastoral wisdom. Simply put, if you're a fan of Lucado's writing, this will be an entertaining series for you.
Max is on-point throughout, though if you've read the book, you'll not really find that he deviates much from what he's written there. That's a good thing for a small group series, though, because it's really idealistic to expect everyone to read the book. Better to let the material speak for itself and then drives individuals to the book if they desire.
Each lesson runs right around twenty minutes, leaving you—assuming an hour lesson time—ten minutes for setup and thirty for post-video discussion. In the participant's guide, written by Kevin and Sherry Harney, each lesson is followed with about ten suggested study questions, though I always recommend that group leaders come up with their own conversation starters that best work for your group. The questions are solid and foundational, though I wish a little more depth was given, as well as a suggested answer. So many times I've seen adult Sunday School lessons turn into discussions of opinions because the question was asked with a "What does it mean to you?" manner rather than the leader being able to bring it back around to a definite objective answer.
I also wish that a little more pizzazz was given for the introductory "icebreaker" (to use youth ministry parlance) question. Just because the series is meant for adults doesn't mean it has to be dull.
But where the guide stands out is the "Between Sessions" section. Now, it's hard to get people to actually read those sections, because adults hate homework as much as kids do, so I recommend you find a way to incorporate some of it into the lesson proper and find a way to encourage individuals do be thinking of the topic throughout the week.
My only other criticism is the length. Maybe it's just me, but I wanted more! A four week series flies by and is able only to grasp the tip of the iceberg when it comes to prayer. The book itself was much more thorough and, I think, deserving of at least a six week series. I would have been perfectly happy utilizing the same nine-chapter structure the book took and making it last nine weeks. I'm sure Thomas Nelson has done their homework and churches prefer quick, neat little studies they can fit into a month, but, in this case, it really didn't do its source material the justice it should have.
Overall, it's a nice series that I would definitely recommend to a church small group wanting to study prayer. But honestly, I'd tell them to go to the book and go to the Bible and use this as supplemental material.